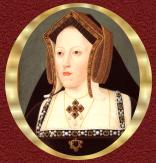 | | | |
| --- | --- | --- |
| Arthur Tudor | | Catherine was born on December 16th, 1485 in Alcala de Henares into the royal family of Spain. Her parents were none other than Ferdinand of Aragon and Isabella of Castile. Little is known about Catherine's childhood except that at the tender age of three, her parents set out to make a political match for her. They found one in Arthur Tudor, the Prince of Wales. Spain wanted an alliance with England as did Henry VII with Spain. The substantial dowry that came with Princess Catherine's hand was also too much for Henry VII to pass up. Catherine travelled to England in 1501. In a lavish ceremony given by her father-in-law at Old St. Paul's Cathedral, Catherine and Arthur were married on November 14th of the same year and she was escorted down the aisle by the young Henry VIII, now her brother-in-law. But, tragedy was soon to follow. |
After only six brief months of marriage, Arthur passed away from the 'sweating sickness' leaving Catherine a childless widow. The dowry proved to be too much for Henry VII to give up and Catherine was quickly engaged to Henry. However, by the time Henry was old enough to marry, his father lacked his former interest in a Spanish alliance and the engagement was cut off. Catherine was now a stranger in a foreign country and the next few years of her life must have been confusing until Henry VIII honored his original proposal at the death of his father. Henry and Catherine had to apply for a dispensation from the church due to the fact that Catherine was the widow of Henry's brother. The church had reservations about the marriage of former in-laws, but they received the pardon they requested. The two were married on June 11th 1509 and crowned King and Queen of England in a joint ceremony two weeks later.




Henry at the time
of his marriage.



Mary Boleyn

Henry Fitzroy

The early years of their marriage went well. Henry often confided in Catherine on royal business and she acted as the Spanish Ambassador to England. It wasn't long after the marriage that Catherine found herself pregnant. Sadly, the child (a daughter) was stillborn in January 1510. Catherine gave birth to a son a year later, but the celebrations following the birth were quieted after a month and a half when the young heir to the throne died. Catherine would miscarry at least two more times and her only living child would be Mary (later Queen Mary I). Henry warmly welcomed little Mary assured that there would be princes when the time was right. He carried her around at court and showed her off to ambassadors. But, as it turned out, Henry's impatience overcame him and he became disenchanted with his wife who could not give him a healthy son. He had affairs with ladies of the court including the sister of later wife, Anne Boleyn. He had an illegitimate son with mistress Elizabeth Blount who he named Henry Fitzroy. (Fitzroy was the traditional surname for bastards of royalty.) Catherine was very tollerant of her husband's indiscretions and even accepted the bastard at court.

| | | | |
| --- | --- | --- | --- |
| It wasn't until Henry fell in love with Anne Boleyn (one of Catherine's ladies) that he started to become estranged from his wife. Henry began to seek ways of ending his long marriage to Catherine when it was apparent that she was too old to bear him any more children. Henry wanted to marry Anne and began negotiations with the Pope to recieve an annullment. Catherine was long kept in the dark about Henry's plans although she was well aware of his affair with one of her ladies. Almost daily she was forced to interact with Anne. | | Anne Boleyn | |
When she was finally made aware of Henry's intentions, Catherine was shocked and furious. Henry offered her many things in return for a divorse but her resolve was solid and she continuously refused. Fed up, Henry used the argument he made to marry Catherine as a 360 degreee weapon stating that it was blasphemous of him to marry his brother's widow and that their marriage was illegal. He banished Catherine from court and refused to let her see Mary. Catherine complied with dignity but kept up her defense that her marriage to Arthur was never consumated. She directly appealed to the Pope and to the Holy Roman Emperor (her nephew, Charles V). The debates continued for several years until Anne became pregnant in 1532. Henry acted quickly and in cohortion with Thomas Wolsey, his Almoner, he broke from the Catholic church, rejected the Pope's power in England, annulled his marriage to Catherine, and married Anne.



Catherine
around age 40.

Catherine was demoted to the title of Princess Dowager of Wales as the widow of Arthur and was not allowed to be referred to as Queen. It was as if her marriage to Henry had never existed. Mary, who was now 16, was deemed illegitimate and forced to live in conditions as bad as her mother, although the two rarely saw each other. Both parents dead, Catherine's well being was now at the discretion of Henry. She lived in dark, unhealthy castles with only a few servants employed. These conditions worsened Catherine's health but she spent most of her days in prayer for herself, Mary, and Henry who she still considered her husband.
Due to her failing health and probable complications with cancer, Catherine passed away at Kimbolton Castle on January 7th, 1536. She was buried at Peterborough Abbey in a state funeral fit for the widow of the Prince of Wales, not Queen of England. Henry and Anne celebrated her death and the king did not attend the funeral.
Catherine is an important figure in English history for many reasons. It was through her divorce proceedings that England broke from the authority of the Pope, leading to the creation of the Church of England. Catherine herself was a very religious woman and zealous Catholic. Due to Henry's infamy, many are surprised to learn that Henry was married to Catherine for 23 years. She was the mother of the future monarch Mary I and Catherine's treatment at the hands of her father and his betrayal of the Catholic faith had a substantial effect on Mary. She would later be dubbed "Bloody Mary" due to her persecution of Protestants. Catherine also differs from Henry's later wives as a result of her bravery in standing up to the king. None of his later ladies would have stood up to him the way she had. Catherine still lies in Peterborough Abbey but under the title "Katharine Queen of England." A memorial tablet was placed next to her burial place in 1986 that reads "A Queen cherished by the English people for her loyalty, piety, courage and compassion."


Catherine's Signature


Back to The Six Wives of Henry VIII